Little Humby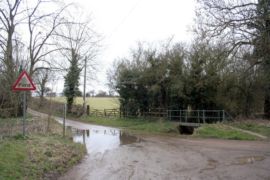 LITTLE HUMBY
Little Humby is a hamlet in the South Kesteven District of Lincolnshire, England. It lies in the civil parish of Ropsley and Humby, 5 miles (8.0 km) east from Grantham, 1 mile (1.6 km) south-east from Ropsley and 1.5 miles (2.4 km) south from the A52.
Humby has a ford that is prone to flooding, and a British red telephone box. The telephone box was purchased from BT by the Ropsley & District Parish Council when decommissioned & villagers use it for community purposes.
Local wildlife includes badgers, and birds such as blue tits, wrens, chaffinches, seagulls, kestrels, red kites and buzzards.
Richard Todd, actor, lived and died at Little Humby.